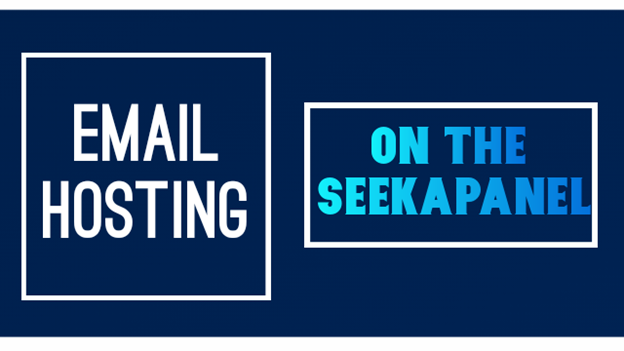 SeekaHost introduces cheap email hosting services with custom email domains through SeekaHost.app control panel
London, UK, 14 April 2022, ZEXPRWIRE, Digital marketing has grown from a nascent service a decade ago to an industry in its own right.
Many things have changed during this time, but one thing has remained the same.
Email marketing continued to be a standout player with incredible ROI.
According to a HubSpot article40% of digital marketers believe email newsletters are the best way to reach customers and over 70% of millennials prefer companies to contact them via email.
This means customers need a reliable, affordable, and feature-rich email hosting service.
SeekaHost launched a email hosting service that's perfect for businesses of all types and sizes.
Why is SeekaHost the best email hosting service?
1. Affordable
SeekaHost offers email hosting for just $1 per month. It's a lot less than anyone else. Even the top-tier Business and Enterprise plans cost no more than $10 and $20.
In return, the customer has 50 to 100 GB of storage space and several mailboxes.
Cutting costs would reduce overhead. Most small business owners struggle with high costs, and SeekaHost email solutions are a real boost.
2. Multiple Servers
SeekaHost has global mirror sites. After all, their core business is domain hosting. Multiple servers have several advantages. You can access emails from anywhere in the world with minimal latency. Nothing is more frustrating than waiting a full minute to download a 2MB PDF.
3. Backup
If the main server where messages are stored is affected, there is another one somewhere that takes over. You are assured of uninterrupted business continuity.
SeekaHost provides top-notch 24×7 technical support to all of its customers.
Chat, email, and phone consultations with their technical team will resolve any issues you encounter in an hour or less.
4. No Ads
Nothing is more annoying than banner ads disrupting an email. This slows down the speed and can be very distracting. For just $1, you have access to a neat and clean work environment. Looking professional is important if you want to grow your business, and SeekaHost gives you plenty of opportunities.
5. Huge disk space
My current email account is five years old. Still, I only managed to use 3.9 GB of space. I'm a power user and my mailbox is filled with emails containing presentations and e-books. Even SeekaHost's cheapest plan offers 5GB. That's more than enough to get you through the next decade. Want more? For just $2 more, you can triple the space!
6. Anti-spam
Spam kills an inbox. How frustrating it is to log on and find 20 emails from shady companies trying to sell you everything else under the sun – from shady cryptocurrency rackets to fake green plants to brighten up your living room.
SeekaHost has advanced spam filters. They understand your actions and prevent future emails with the same subject lines from becoming part of your inbox.
7. POP3, IMAP and webmail
Email is not a single technology. It can be configured to work with SMTP or be browser-based.
For most non-corporate people, email means webmail. but SMTP mails such as POP3 and IMAP have many advantages. These services can be integrated with Outlook, Thunderbird and similar email clients providing better email handling.
For example, you can send an email from the document you are typing without pausing.
This lets you compose and format better emails than the bland editor of a webmail service.
The result is more lead responses and more profitable email campaigns.
8. Experience
It helps to have been in the business for a decade. SeekaHost has a lot of hands-on experience and it counts.
A newbie who has hired a dozen servers and is looking to break into a crowded market at rock bottom prices won't survive long. When it disappears, it will take your work emails with it the day it shuts down its servers.
How does a custom email domain help?
I can hear you asking why not get a free Gmail or MSN email id.
It costs nothing. Sites such as Yahoo offer unlimited storage. It surely saves a dollar!
Nothing could be further from the truth.
1. Professional
Do you really want to have an email id such [email protected]gmail.com?
Does it look professional or do you seem like just another spammer?
No one will take your business seriously until you get an email hosting solution that gives you a personal domain such as [email protected]
2. Credible
Gaining a client's trust is the first task. It can be incredibly difficult and every little bit counts.
Nothing is more impressive than a branded email address.
Think about[email protected]salazar.comand[email protected]salazar.com. Don't they look competent and professional? In addition, you immediately know who you are dealing with.
3. Flexibility
Email is not only a tool for generating customers and maintaining a relationship with them, but also for working in an office.
It is easier to contact other members of staff when you can have an email address for each of them, for example[email protected]salazar.comand[email protected]salazar.com.
It's much easier to remember than [email protected] and [email protected].
4. Control
You have administrator rights to the email addresses you own. This means that you control the material and information sent by e-mail.
In the event of an employee leaving, you would have a hard time recovering information if it was part of a generic webmail.
With your own email hosting solution, such a problem does not arise. You automatically own everything.
5. Prevent spying
You can find a list of recipients of emails sent from the server. If someone in the office passes information to a competitor, you will know immediately.
Don't get me wrong, espionage exists in all areas. You must protect what is rightfully yours.
Final Verdict on SeekaHost Email Hosting Services
SeekaHost has been known as a trusted web solution service provider for years. Not only were their prices lower than everyone else's, but they never compromised on service.
It is exciting that they have now ventured into email hosting and offer very affordable plans.
The service is easy to register and takes no more than a minute. If you have any doubts, SeekaHost customer service is ready to help you anytime.
Reliable, dependable and inexpensive – SeekaHost is the perfect email hosting solution for every business.
Media contact:
E-mail: [email protected]
Address: Office 147, 182-184 High St N, London E6 2JA, United Kingdom
Contact: +443300581995
Website: https://www.seekahost.com/